Stand Up Comedy Clubs/Open Mics in Delhi
Ever wondered those stand up comedy videos you watch online on YouTube… Where are they really shot? Where are those comedy clubs? or Where to go if you want to watch stand up or perform at open mics?
To answer all those questions above, we made a list of some of the top comedy open mics in NCR where can go and do a spot of stand up and attend comedy evenings. But before that…
I'm sure you have seen this place in videos, right? Well, it's closed now!
.
Canvas Laugh Club was hot spot of comedy in Noida, Gurgaon and Mumbai. But it got closed in 2019 for some reasons and now there are some other good places (you will see them on YouTube soon too) where you can go and watch stand up comedy live!
The Social House – Tilak Nagar
The Social House is one of the best places to attend comedy and poetry open mics/ events. They host events every weekend and this club is situated in Tilak Nagar close to the Tilak Nagar metro station. They are famous for their poetry events and shows mainly but they are bringing the comedy scene up day by day with regular mics and shows.
You can contact them and book your spot through their social media handles:
Instagram – https://www.instagram.com/thesocialhouse/
Address : 31/3, Double Storey, Ground Floor, Ashok Nagar, adjacent Burger King, Tilak Nagar, New Delhi, Delhi 110018
The Central Club of Comedy – Patel Chowk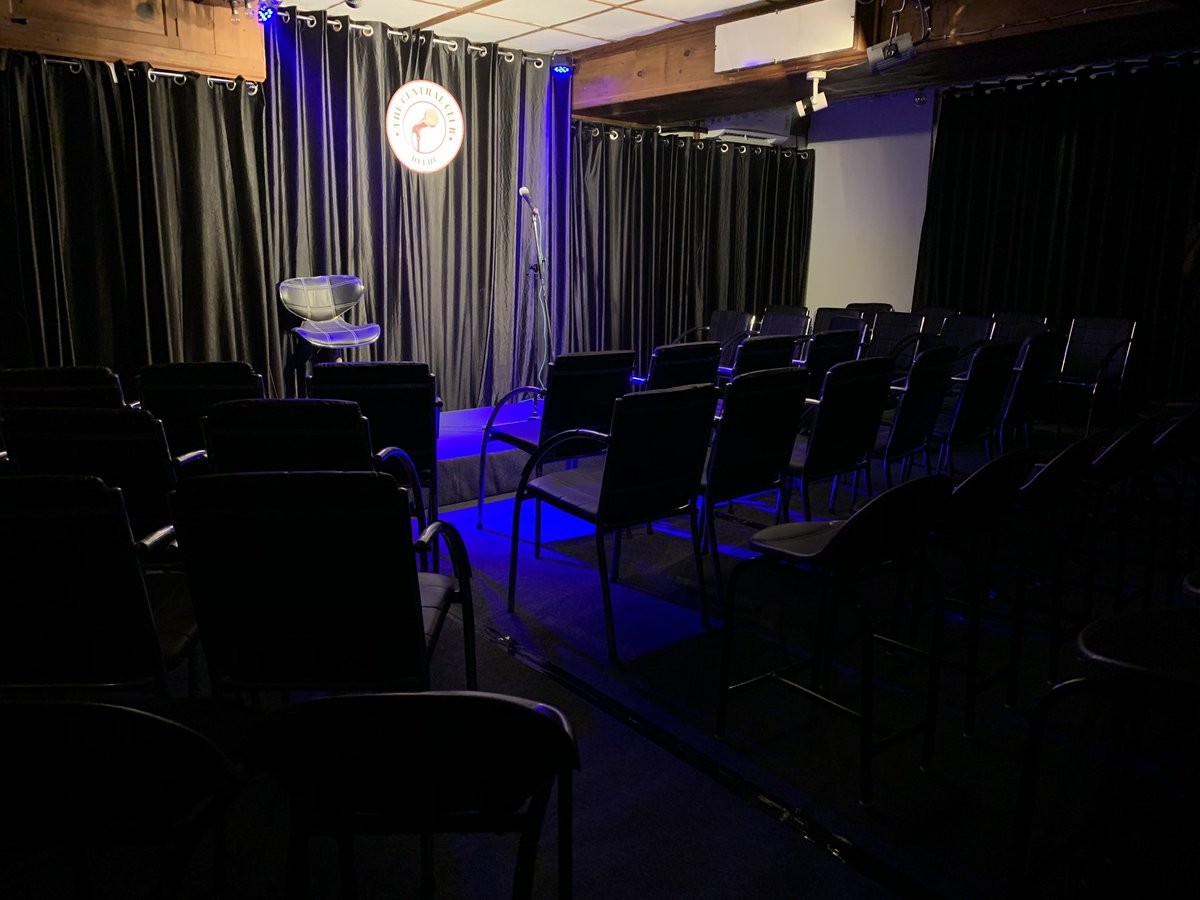 Central Club of Comedy is a professional comedy club situated in Central Delhi. It is situated inside the very famous Akshara Theatre. You can watch and perform comedy just by contacting the club and booking your spot. There is another branch of this club in Dribble Cafe, Gurgaon. They host open mics 3-4 days every week.
Instagram – https://www.instagram.com/thecentralclubofcomedy/
Address : Gate No 5, Akshara Theatre, 11b, Baba Kharak Singh Rd, near RML Hospital, Baba Kharak Singh Marg Area, New Delhi, Delhi 110001
Playground Comedy Studio – Vasant Kunj & Saket
Playground Comedy Studio is the best place to go to watch live stand up and perform and it is the first comedy studio of Delhi. Professional stand up comics do live shows quite often here and you must've seen this place on YouTube videos as well. It has a cafe inside it to buy drinks and stuff to eat. Entering inside, you'll get a good vibe with rooms filled with people laughing.
Instagram – https://www.instagram.com/playgroundcomedystudio/
Address : 317/276, Lane, 3, Westend Marg, Saidulajab, Saket, New Delhi, Delhi 110030
Happy High – Shahpur Jat
Happy High is also a very good place to perform stand up comedy and is very known in Delhi. It is a fantastic mic and the audience is the best here. All the comedy circuit artists do shows here almost every weekend.
Insta – https://www.instagram.com/happyhighind/
Address :  119, 5th Floor, Sishan House, near UCO Bank, Shahpur Jat, New Delhi, Delhi 110049
These are the top 4 stand up mics in Delhi. There are dozens of open mics that are hosted by different clubs at different location every week. So can just look up for them on the internet but if these mentioned places are in business for a long time and they will provide you the best experience.