Top 5 Indian YouTubers (Content Based) & Their Earnings
YouTube is a social media video platform which provides content creators a stage to express their talents to the audience worldwide. And a lot of content creators are out there now as millions of videos are posted every minute worldwide. There are a lot of Indian YouTubers who are taking over YouTube but if we talk about the best, people have different point of view. Here, we studied almost all Indian YouTubers and made a list of best ones considering their content.
5. Saiman Says
Yeah, you read it right! It is really 'Saiman Says'. Saiman Says is a Youtube channel owned by Saimandar Waghdhare and just from the name of this channel, you can tell how humorous the content will be. Saiman Says got in people's eye during the whole 'PewDiePie vs T-Series' war and he did amazing things on PewDiePie side in India like putting up hoardings and running 'pewds' subscribing campaigns. Since then Saimandar is on blast on YouTube, apart from the fact he is called "Indian Pewds' by some of the YouTube enthusiasts. Saiman Says subscribers are called Say Sena and they all joined Saiman Says when they understood the content which is mostly based on satirical comedy. Saimandar also focuses on meme reaction and does a series of comedy sketches. Saiman Says has over 661k million subscribers.
Saiman Says estimated YouTube earnings are around $66k.
4. JordIndian
JordIndia is an Indian comedy duo with over 2 M subscribers on YouTube who make comedy sketches on YouTube with dank content and they are known for their observational comedy videos. Jordindian channel is created by Naser Azzeh and Vinneeth Kumar. Naser is from Jordan and Vineeth is from India, that's why they named their channel Jordindian. They are more famous in south as they mostly use their native slangs in thuer videos and their content is always top class. They are making vines for years now and they will never see do these 'cringe' topics which other Indian famous vine maker do. JordIndian has done songs for Netflix India too and their content I sfamous all over the globe.
Jordindian estimated Youtube earning is around $475k.
3. MenSutra
MenSutra is a YouTube channel founded by Shwetabh Gangwar. MenSutra is kind of a motivational channel, here Shwetabh gives the solution of all the youth and encourage them to do hard work and use time wisely. This YouTuber also covers controversies happening in India on his second channel which is name Shwetabh Gangwar. He is the author of the book 'The Rudest Book Ever' which explains the harsh reality of the youth and how to make tough decisions in your life. Shwetabh Gangwar got famous in India with its motivational and Bollywood roast videos. Mensutra has over 912K subscribers.
Mensutra YouTube earnings are estimated around $113k.
2. SlayyPoint
SlayyPoint is probably the most humorous and millennial friendly Indian YouTube channel. This YouTube channel was co-founded by Abhyudaya Mohan and Gautami Kawale. They both have a comic sense that just people find really funny and interesting to watch. SlayyPoint plays with psychological factors in their videos which hit several stereotypes and they roast the weird things that are in the news or on the internet. They are the only YouTubers who have collaborated with Will Smith on some projects too when he was on his Indian tour. SlayyPoint has over 1.8 million subscribers on YouTube.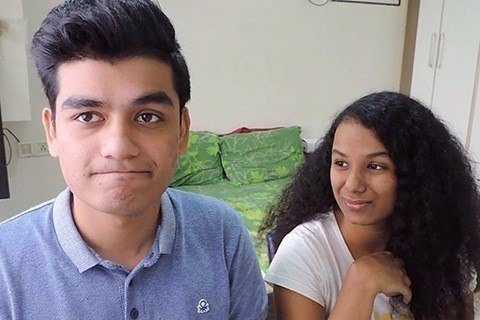 SlayyPoint YouTube earnings are estimated around $350k.
1. BB Ki Vines
Yeah, you guessed it right! Ofcourse, he is on top. BB Ki Vines is the best Indian YouTube channel. Bhuvan Bam has been the most subscribed Indian individual YouTuber. He is also a singer and songwriter. I still remember when I started watching BB's content back in school and even then I knew that this guy will become a sensation one day. BB is a great actor and he is keeping up the legacy of making vines with a standard phone and inspiring people and new YouTubers. With his epic series like 'Angry Masterji' and characters like 'Titu Mama', he has won hearts not only on YouTube but also in Bollywood. BB ki Vines has over 17.6 million subscribers as of now.
BB Ki Vines estimated earning from YouTube is around $3.29M.